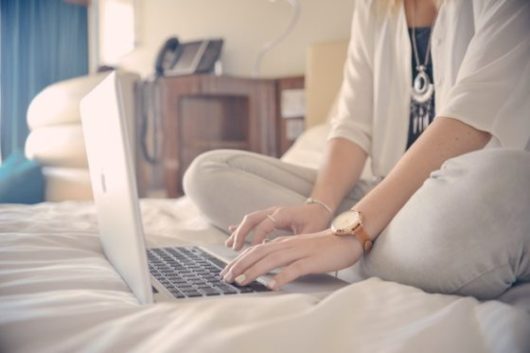 I don't love to write. I said it! I know I need to write. I'm told I do a fair job of it. But I don't love it like some people do. I'd rather get my hands on a client's body and commune with Higher Consciousness in the ethereal realms. Higher Consciousness doesn't seem to have a wi-fi connection I can hook into for the writing thing.
So, of course, knowing that I need to write and want to write, so I can help all of you with the health challenges you have or are going to have as the years roll by, I decided to take up a challenge that came across my inbox a few weeks ago.
The challenge was proposed by none other than the renowned copywriting expert Stella Orange herself and—here's the best part—it was free!! I was all over that. I love the way Stella writes. So true to her own voice. Full of stories and spit and vinegar. But I digress.
She was offering to post a daily prompt and a video to get us started. There was a Facebook group if we needed support on a personal level. We could show up or not. The rules were that beating up on yourself was not allowed. You could skip a day or two. You could skip the whole damn thing if all you wanted to do was soak in some Stella.
Why was that appealing again–?
Oh yeah. No pressure. No perfectionism. Just friendly prompts and a time limit of your own choosing. I chose ten minutes. Just ten minutes a day–I could commit to that.
And I did the work. I even posted a few things in the Facebook group. But then, you know. Life happens. I went out of town for several days and had to catch up with the assignments when I got back home. Right there was more than my ten-minute commitment. And then I fell behind again. More life happening.
But I was determined to get it done! I did a marathon catch-up this weekend. And it felt good to actually complete it. Here's what I learned:
I tend to freeze up when I put my fingers to a keyboard. I think it's actually easier to write with a pen in hand and a piece of paper. Free-writing for a specific period of time makes it almost painless. It's like a force other than you (hello, Higher Consciousness!) is sitting on your shoulder whispering things to your fingers and you look down and notice that you wrote something you hadn't actually thought of before.
I identified what some of my biggest distractions are when it comes to writing. And the solution is to just SHUT UP AND WRITE. Just do it. The routine is the important thing. Not your mood. Not the conversation in your head about how hard it is or how it's not good enough. And very definitely not the thought that someone else's opinion or demands on my time are more important than the thing I've committed to doing.
I've identified how I want my writing to feel to my reader. Mostly I want it to feel authentic. That means I have to show up as myself and not be afraid to say things the way I say them. I don't have to sound like a professional copywriter or Barbara Kingsolver.
I've learned that the thing I'm most passionate about isn't even mentioned on my website, and I'd like to find a way to bring that subject matter into the world in my own voice.
I learned that my unhealthy relationship with failure has been a huge sticking point. When you've been raised to believe that failure in school (getting less than an A!), in your church, and in your childhood home was shameful and—in some cases—could cost you your life, you tend to shy away from anything that might set you up for that.But as I've learned in SUAW and from just about every other personal development writer or coach I've listened to recently, we need to consider failure a gift! That's right—a gift! We need to thank each and every one of our failures because they're bringing us an experience, a lesson, a maturing that we wouldn't otherwise have had. If you can learn to love failure, you'll be unstoppable!
In the words of Seth Godin, "Most of us need an external stimulus to do our best work." It helps a whole lot to have a structure, a commitment, and a measure of accountability to get out of our comfort zone and do the work.
Like any habit we want to create, it does take a bit of all six of these mindsets and/or structures to make it happen.
Find a way to make the behavior painless.
Ignore your discomfort and just do what you committed to do.
Be true to who you are and know what you need to get the desired result.
Identify something you're so passionate about that you'd be willing to get a little uncomfortable to have it.
Make friends with failure and even learn to celebrate it!
Get some kind of accountability and structure.
It often takes a skillful coach to get you these, and all I can say is, I'm grateful to Stella Orange for these insights. And the thing I most needed to learn? Every time you show up to do the thing you committed to doing, you win BIG TIME!